There are many forms that you might need to get your event off the ground and all the way across the finish line. If you have any questions about which forms you need to use, please contact your VP.
---
CSS PTA Newsletter & Facebook Submission Form
Do you have something you want to tell the parents at CSS? If so, fill out this form, so we can get it in the news for you!
Things to note in terms of timing:
Facebook & Facebook Calendar: Need 2 days notice prior to posting
CSS PTA Newsletter: Ideally comes out during the first week of the month. Please submit information prior to the 21st of the month before publication. (i.e. Submit your info by Oct 21st for publication in November news)
App Push Notifications: Need 2 days notice prior to posting
Principal's Newsletter: All information is submitted to the Principal by Thursday of each for publication Friday-Monday. Please submit information by the Wednesday before publication.
Email to teachers: Need 2 days notice prior to emailing
Email to room parents: Need 2 days notice prior to emailing
Website Content: Need 2 days notice prior to posting. If you want something on the webstore, please contact 1stvp@csspta.com
---
FACILITY REQUEST FORM
All events that take place on campus will need to have this form completed and turned in to Tina in the front office. Please cc your VP and/or the President.
Use of Facility Request Form PTA
---
PTA RECEIPT REIMBURSEMENT
Remember to hang on to you receipts so you can be reimbursed afterwards. Please try and submit all outstanding receipts NO LATER than 1-2 weeks after your event. (check processing can take at least a week). These forms are also available in the PTA box in the workroom.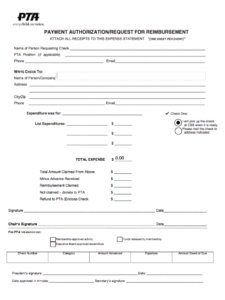 PTA REIMBURSEMENT – Fillable Form
---
CASH VERIFICATION FORM
If your event will be receiving cash or checks, then you need to use this form to count the money and include with the cash in an envelope that you deposit in the PTA safe (located in the main office). Reminder to have 2 people (not related by blood or marriage) sign the bottom of the form before you place in the safe.