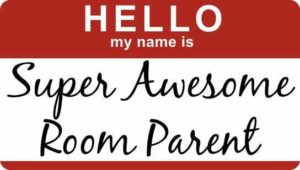 What is it:
One of the most valuable volunteer resources because you are the main line of communication between the teachers and PTA!
Responsibilities Are:
Organizes class parties (typically 4 of the following: Halloween, Winter Holiday, Valentines, Easter/Spring, End of the Year)

Usually this involves collecting money (a donation from parents) and working with the teacher to come up with the activities for the party

Helps coordinate the class for Ice Cream Social (ICS)

Help get volunteers from the class for the day of the event
Help gather donations for ICS stations (cake walk, gift cards, etc)

Helps with Teacher Appreciation Week (there are Chairs who organize the week)

Collect/organize events at the classroom level (door decor, flowers, classroom supplies, etc)

Coordinates a holiday and/or end of year present for the teacher
You must be a PTA member — Join now
Always here to help answer question is the Classroom Programs Chair
---
The PTA provides some guidance in making the job easier, but a room parent really helps serve as a liaison for the teacher and the PTA to reach parents in individual classrooms.  We also have grade level reps who will provide support and guidance throughout the year!
Room Parent Tips
:  Here is a detailed doc outlining all the do's/don'ts of the role, in addition to helpful tips.
Class Party fund request
 – use this template to communicate and collect for classroom funds.  Copy/paste this into your own document in order to fill in with your classroom details where necessary.  Parent/Student donation is optional, not mandatory.
Wondering when your teacher's birthday is?  His/Her favorite color?  Does he/she have a favorite treat?  Find all that info here, CSS 2022-2023 FAVORITES!